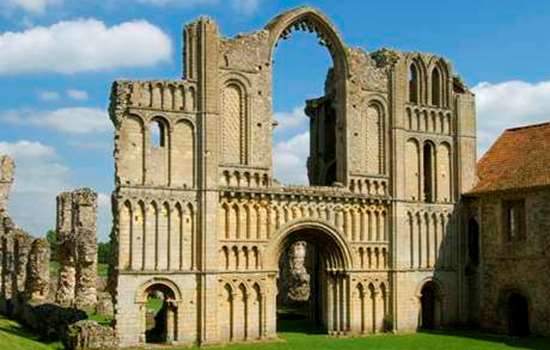 YIELD UP THE MYSTERY WEEKENDER (November 17 & 18, 2018)
"They do not readily yield up the mystery." - Vincent Price as Verden Fell in The Tomb of Ligeia
Join Victoria Price and Peter Fuller on a mystical two-day adventure through Essex, East Anglia and Norfolk on November 17 and 18, 2018. While touring through Bury St Edmonds, Norwich and other locations, we will weave together the connected strands of the paranormal, mystical, magical as we experience the sacred and profane, the ghostly and the glorious. Highlights of the tour include Borley Rectory (the site of the most haunted house in England), the mystical St Julian's shrine in Norwich, the ancient Bronze Age burial circle of Seahenge, St Mary's Church in Bungay where the ghostly Black Shuck fiend is said to have visited, and the magnificent 12-century Castle Acre Priory in Norfolk, where Vincent Price filmed the classic 1964 gothic horror, Tomb of Ligeia.
Your tour includes one night lodging in Norwich (with breakfast included), ground transportation (from a central London location), entrance fees and a privately led evening ghost walk. Only 11 spots are available for this intimate journey to see what mystery and magic will yield up to us all on this incredible ESC Tours adventure.
Peter and Victoria will share stories and guide you through these mysterious and magical places -- as you experience the Explore, Savor, Celebrate philosophy of ESC Tours as inspired by Victoria's father, Vincent Price. Incorporating his curiosity about culture, travel, history, the paranormal and spiritual, as well as his love of England, this tour will be a very special weekender!
SOME TOUR HIGHLIGHTS:
Take a walk through the streets of Norwich! Ghouls, phantoms, poltergeists, witches, – all that and much more, recounted in full bloodthirsty detail by your Ghost Hunter host, 'The Shadowcaster who reveal the spooky side of Norwich's Cathedral, Norwich Castle, Elm Hill and Tombland.
Norwich's Norman Cathedral is one of the city's iconic buildings, dominating the skyline with a 315ft spire that is second in height only to Salisbury. There's a lot of history attached to the cathedral. After all, it was built more than 900 years ago, and has seen civil unrest, plague, war and fire. The Cathedral has the largest collection of medieval roof bosses of any cathedral in the Christian world – more than 1000! It's also possibly one of the greatest collections of Bible stories in stone.
Bungay: St Mary's Church was struck by lightning on Sunday, 4 August 1577. During the thunderstorm an apparition appeared, consisting of a black Hell Hound, which dashed around the church, attacking members of the congregation. It then suddenly disappeared and re-appeared in Holy Trinity Church, Blythburgh, 12 miles (19 km) away, injuring members of the congregation there. The dog has been associated with Black Shuck, a dog haunting the coasts of Norfolk, Essex, and Suffolk
Woolpit, a village in the English county of Suffolk, ,is notable for the 12th-century legend of the green children of Woolpit. This legend concerns two children of unusual skin colour who reportedly appeared in the village some time in the 12th century. The story could be a folktale describing an imaginary encounter with the inhabitants of another world, perhaps subterranean or even extraterrestrial, or it is a garbled account of a historical event.
Borley Rectory was a Victorian house that gained fame as "the most haunted house in England" after being described as such by psychic researcher Harry Price -- no relation to Vincent or Victoria (that we know!). We shall be having lunch in the pub where he conducted his research.
A FULL ITINERARY FOR OUR TRIP WILL BE DISTRIBUTED TWO WEEKS BEFORE DEPARTURE.
NOTE: WE ONLY HAVE 11 SPACES AVAILABLE FOR THIS INTIMATE TOUR. IT WILL SELL OUT QUICKLY!!
PRICE PER PERSON (single occupancy room): £260
COUPLES PRICE (double occupancy room): £410
As always, we keep our tours small and space is limited. So if you would like to sign up to hold a spot on this first-come, first-served list, please email us at exploresavorcelebrate@gmail.com. We will contact you regarding payment to hold your spot.